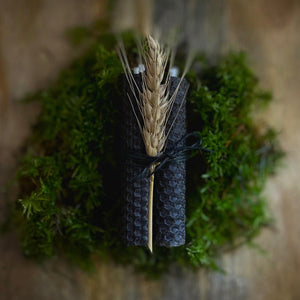 Focus and direct intent with these beautiful mini hand-rolled ritual candles. Use for spells, meditation or ritual prayer to help promote self-love and dispel negative energy.
Made from 100% certified organic Australian beeswax that is free from synthetic agricultural chemicals and harmful pesticides. The wick is made from cotton and the wax is dyed with natural black pigments. Each bundle comes with four mini hand-rolled candles.
Please note that these candles are smaller than our previous beeswax candles. They are half the size.
Price List
Bundle: $10.00